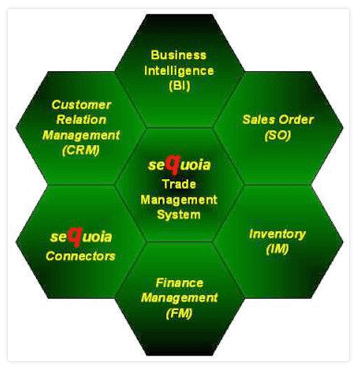 Sequoia Trade Management System is a highly integrated and scalable system comprises of the following modules to ensure your business run seamlessly. It is an excellent solution for wide range of retail business.
The Core modules of Sequoia Trade Management System are:
* Sales Order Management System (SO)
* Purchasing / Inventory Mgt System (IM)
* Customer Relationship Mgt System (CRM)
* Business Intelligence BI)
* Finance Management System (FI)
* Sequoia Connectors

Download Brochure




Sales Order Management
Enable orders to be created and tracked and generates supporting Sales Order, Delivery Orders and Invoices
Purchasing / Inventory Management
Inventory Control - Use by inventory professionals to check the current stock, reorder level or min stock ordering.
Purchasing Order - Used by management to make any order requests from vendor lists to maintain the minimum stock before selling to customer.
Finance Management
Powerful too to manage the General Ledger, Accounts Receivable and Account Payables for the client.
Business Intelligence
Enables intelligent and timely decision with our state of the art reporting tool.
Customer Relationship Management
CRM enable client to manage their customer with the ability to capture transactions and track redemptions. It has a web-enabled interface to allow access from any location.
Connectors
Sequoia Connectors enables integration with other applications.




Sales Order Management
The sales order management module consists of Order Management, Delivery Management, and Invoice Management.
1. Order management module enables user to create, change, cancel and generate sales order for customer. User can view sales order when needed and create good returns and for customer in event of exceptions.
2. Delivery management module allows user to create, change, view and generate delivery order after the sales order are confirm.
3. Invoice Management module provide user with the creation, amendment, view and generate invoice upon the delivery order. It also track and generate credit or debit note history for accountability purpose.
Purchasing / Inventory Management
Inventory module enables the user to manage multi-location inventory, such as add, update, activate or deactivate. User can choose to view the product list based on various selection and viewing options. Manages stock transfers and stock takes.
Purchasing module allows the purchase order; good received, good returns and stock transfer to be managed seamlessly. System alerts when a purchasing request is created when stock level reaches minimum quantity level. System can manage goods return due to damage or other exceptional cases.
Finance Management
Finance module manages the account receivable, payable and general ledger. It provides a checking mechanism by validating the purchase order against the delivery order.
The Credit and Debit Note store or view all Note information based on monthly. General Ledger comprised of all data from Account payable, Account Receivable data, Debit note and Credit note for balancing purposes.
The Invoice Verification verifies the purchase order, Good Received and Inventory whether stock is correct or not.
Business Intelligence
Business Intelligence Module enables timely and accurate report to be generated. Business Intelligence reports to support mission-critical projects in areas ranging from HR strategy and performance management to customer relationship management
Compiled using Business Intelligence's own proprietary approach to researching business and management issues, the reports synthesize the rigor of academic analysis, the practical know-how of experienced managers and the inspiration of original thinkers.
Above all, Business Intelligence reports are designed to be practical - a resource to be used by senior managers, project managers and all members of the team.
Customer Relationship Management
Customer module for create and view a customer records when have a new customer coming. The module also provide user to view the transaction history of the customer.